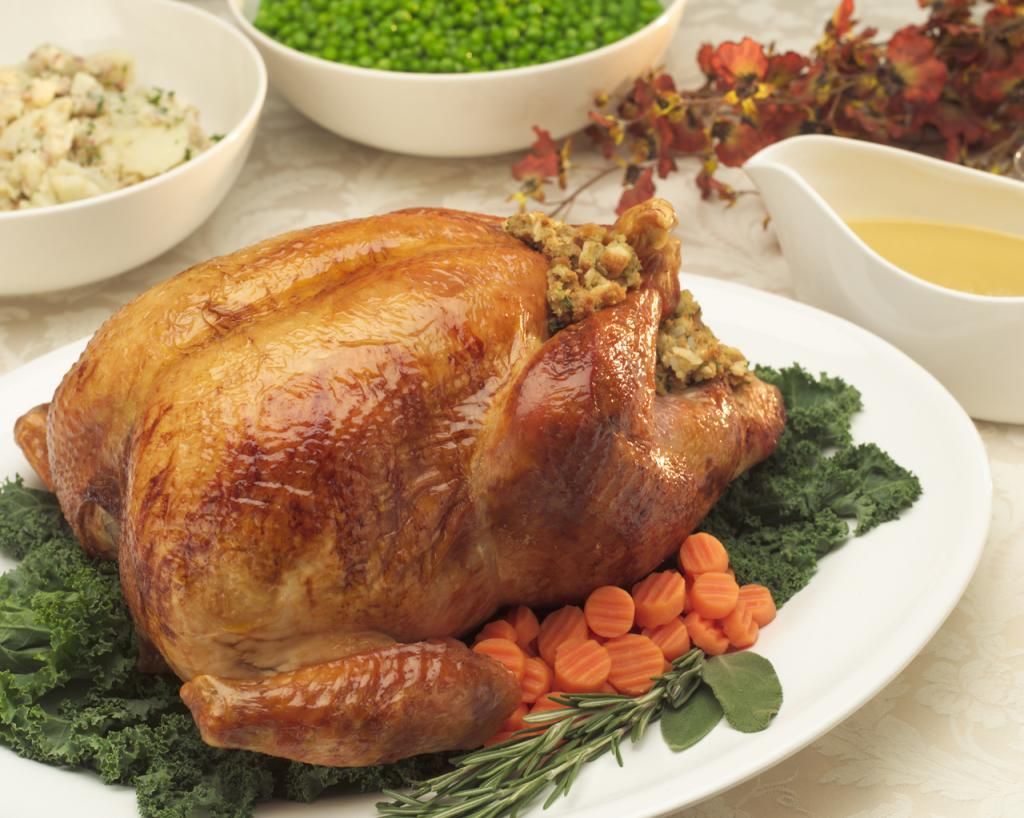 Whether you're in charge of the turkey or you think cooking and cleaning is for the birds, Atlanta's gracious restaurants are ready to accommodate with dine-in and take-away solutions. If cooking the main is your main thing,
White Oak Pastures
can send a farm-fresh bird and seasonings your way. No matter how you slice this meal, with these tips, you'll leave the table pleasantly stuffed.
Plate up at
10th & Piedmont
in Midtown where tradition calls for a traditional Thanksgiving
buffet
from 11 a.m.-11 p.m. Enjoy holiday favorites and dessert for $29 per person (tax and gratuity not included). Wine specials add to the festivities. Reservations: 404-602-5510
Atkins Park Restaurant & Bar
in Virginia-Highland breaks bread beginning at 4 p.m., offering a prix fixe menu for $28 for adults, $18 for young adults ages 11 to 16 and $10 for children 10 and under (tax and gratuity not included). Choose between Big Green Egg-smoked turkey breast or braised pork shoulder with sides of green bean casserole, roasted garlic mashed potatoes, cranberry Grand Marnier compote and sweet potato biscuits. Dessert includes pumpkin cheesecake or Southern pecan pie. Reservations: 404-876-7249.
Chicken and the Egg
in Marietta is all about the South with a meat-and-three menu plus dessert available from 11 a.m.-7 p.m. Choose either roasted turkey with cornbread dressing or glazed ham plus sides such as mashed potatoes, mac and cheese and green bean casserole and desserts of pecan pie, pumpkin pie or apple cobbler. Meal includes rolls with butter, cranberry relish, soft drinks, iced tea or coffee. $24.99 for adults, $11.99 for children 6 to 12 and free for children 5 and under (tax and gratuity not included). Reservations: 678-388-8813.
Executive chef Ben Castro at
The Mill Kitchen & Bar
in Roswell is fixing a farm-fresh Thanksgiving dinner for your homestead. His traditional turkey dinner includes roasted turkey breast, gravy, dressing, The Mill mac and cheese, green bean casserole, cranberry relish and pumpkin pie. Dinner for six to eight people is $95; dinner for 10 to 12 guests is $145. No substitutions; however, additional sides may be purchased. Place orders by Monday, November 25 by calling 770-817-9345. Pick up on Wednesday, November 27.
Milton's Cuisine & Cocktails
is smoking apple-brined turkeys and packing each one up with Madeira gravy and sage-corn spoonbread to carry to your house or grandma's house for $75. Additional sides are available upon request, and Milton's includes reheating instructions. Each 12-14 pound turkey feeds six to eight people. Place orders
online
by Friday, November 22. Pick-up after noon on November 26 and 27 at the historic Crabapple restaurant. Call 770-817-0161 for more information.
The Thanksgiving Bounty Buffet at
Old Vinings Inn
will please the whole family. Hot classics include curry-pumpkin bisque, herb-roasted leg of lamb, roasted and fried turkey, shrimp and grits, BBO potato gratin, green bean casserole with porcini cream, apple and andouille corn bread dressing, whipped sweet potatoes, plus much more. A cold buffet offers cocktail shrimp with bloody mary horseradish, chow-chow devils, pimento cheese spread with sea salt and olive oil flatbread and roasted spaghetti squash salad with basil and pine nuts. On the dessert table, find pumpkin pie, pecan pie, apple strudel and petit fours. $50 per person; $25 for children ages 10 years and younger (plus tax and gratuity). Reservations are available 11 a.m.-5 p.m.; call 770-438-2282.
Ormsby's
, located in West Midtown, is staying open on Thanksgiving Eve until the wee hours of Thanksgiving morning. Sip away until 3 a.m. on Thursday, November 28 and try drinks from the fall menu, Monday Night Brewing's Drafty Kilt, Bell's Two-Hearted Ale and more pours.
Black Friday shoppers,
RA Sushi Bar Restaurant
in Midtown is planning its version of "RA Retail Therapy" with extended food and drink specials from 11 a.m.-7 p.m. on November 29. More than 30 appetizers, tapas and sushi selections ($2.25-$7.25) including Tootsy Maki, the Viva Las Vegas roll and other popular dishes await to fortify shoppers. Hydrate with beer, wine and signature cocktails ($3-$7) such as the Absolut Asian Flirtation, Pinnacle Strawberry Kiwi Saketini or Cuervo yuzu margarita.
All three
Ray's Restaurants
locations welcome Thanksgiving guests.
Ray's on the River
is offering a buffet from 10 a.m.-9 p.m. priced at $39.95 for adults, $19.95 for children ages 7 to 12 and free for children 6 and under.
Ray's on the Creek
is offering an à la carte menu from 11 a.m.-9 p.m., and
Ray's in the City
is offering an à la carte menu from noon-8 p.m.
Spend time at the table, not in your kitchen, at both
South City Kitchen Midtown
and
South City Kitchen Vinings
where a three-course
menu
brings choices and Southern classics your way. Dine Thursday, November 28 from 11:30 a.m.-8:30 p.m. at the Midtown location and from 11:30 a.m.-7:30 p.m. at the Vinings location. The meal is $45 for adults and $22.50 for children 12 and under (tax and gratuity not included). Reservations are recommended at both locations: South City Kitchen
Midtown
- 404-873-7358; South City Kitchen
Vinings
- 770-435-0700.

Appreciate the difference of a home-cooked American Standard Bronze turkey ordered from

White Oak Pastures.

Raised in open-pastures, these birds are free of antibiotics and added hormones. Three sizes: small (8-12 pounds) for $75, medium (12.1-16 pounds) for $100 and large (16+ pounds) for $125. Order

onlineor by phone

at 229-641-2081 by Saturday, November 23. Shipping costs are calculated per mile per pound. Spice up that bird by adding White Oak Pastures' very own house-made poultry spice rub made of salt, garlic, black pepper, oregano, paprika, cayenne, white pepper and allspice for $7.99.